---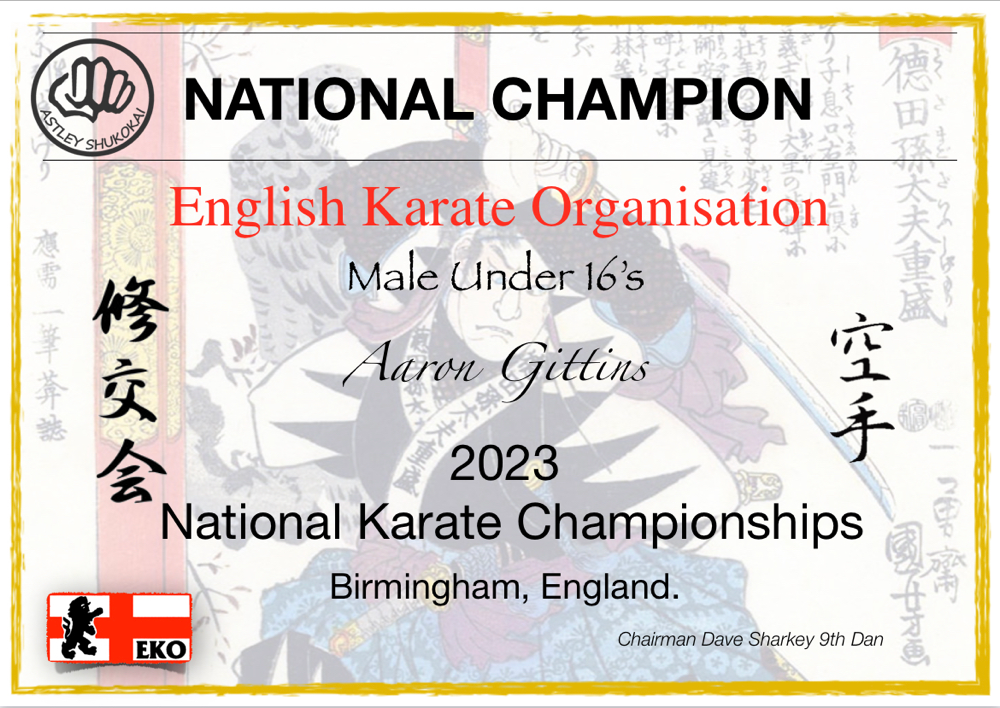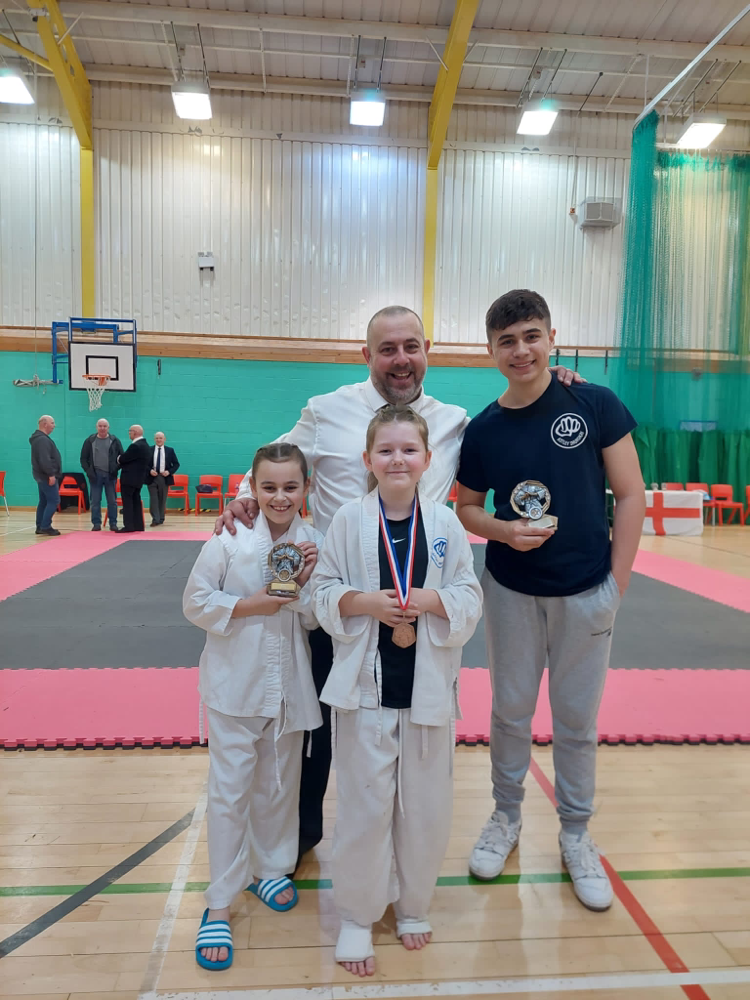 Aaron Gittins
It's with great pleasure we announce that Aaron Gittins became National Champion in the 2023 English Karate Organisation's National Championships. 
Aaron has been training at the club for 9 years starting at the age of 5
. 
Pictured alongside him is Keavy Boden-Smith who came 2nd in the under 10s female category and Melody Aspinall who achieved 3rd place in the Female under 16's Under 5'3" category 
Superb achievement by all. 
---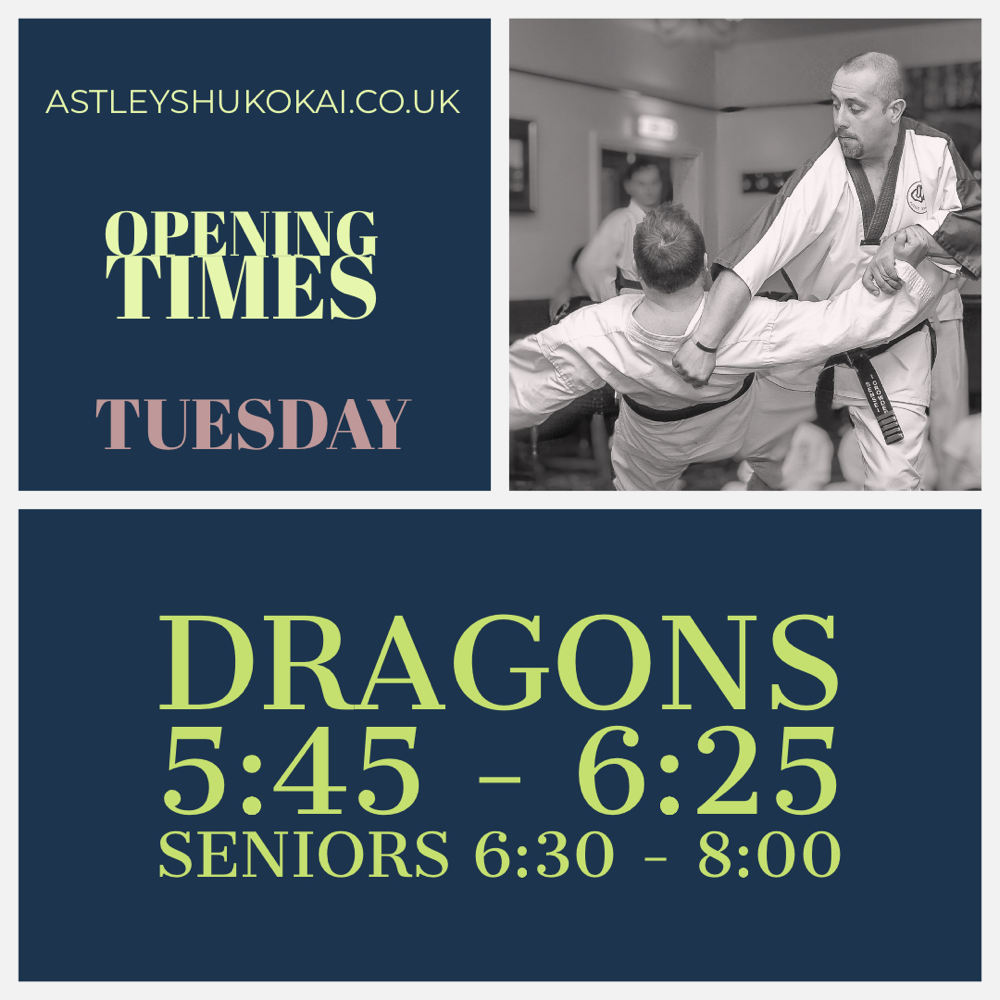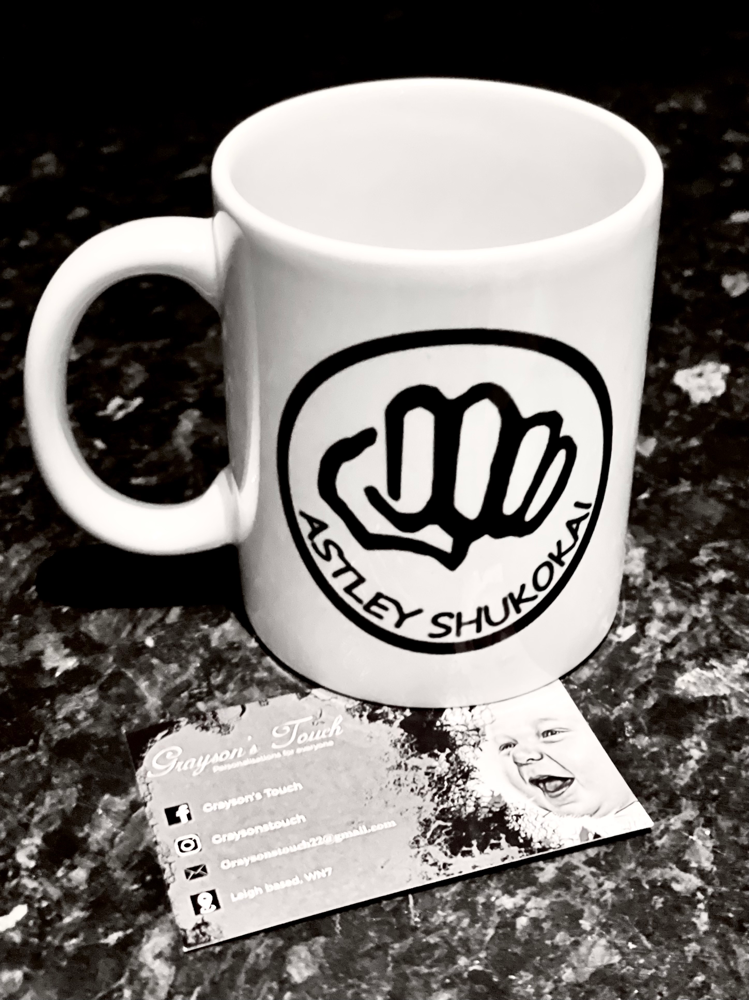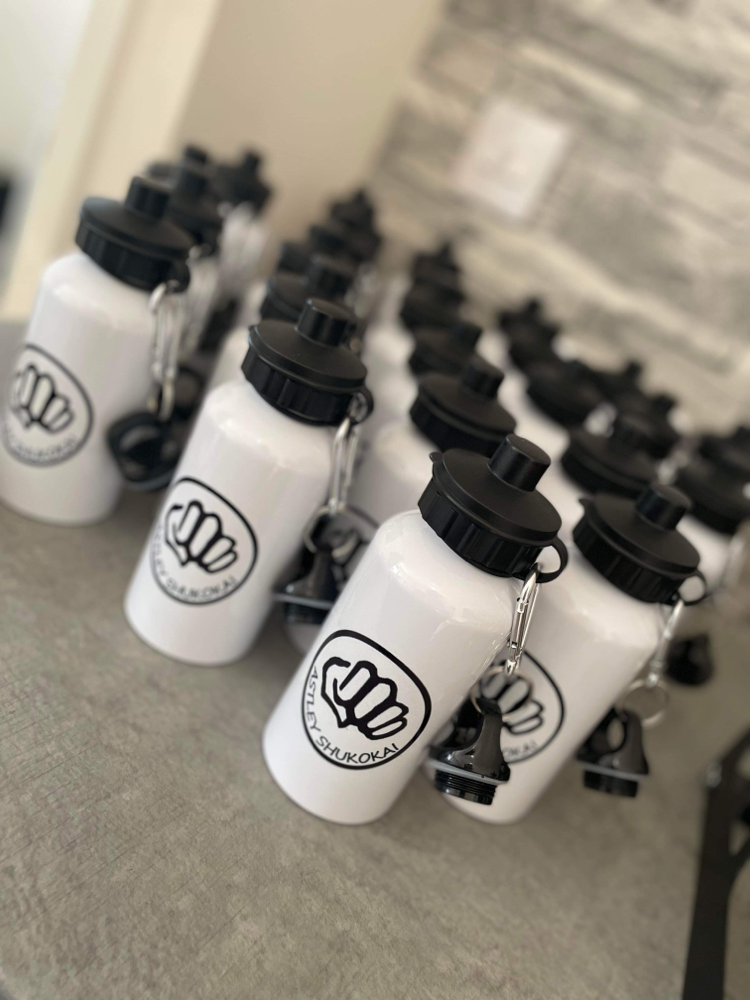 Cups & Drinks canister ready to order. 
---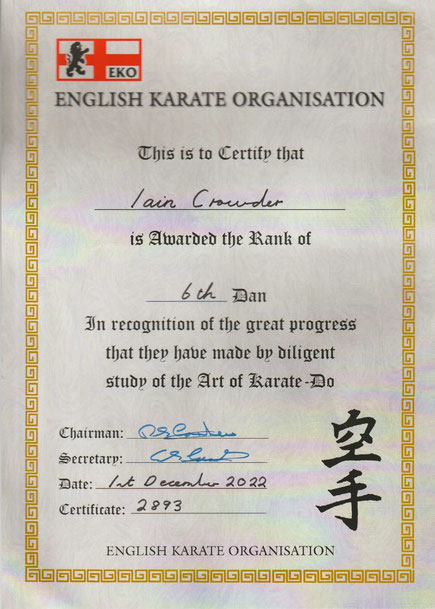 Sensei Iain Crowder has been awarded the grade of Roku Dan or 6th Dan after 40 years in martial arts.
This highly prestigious award was done by none other than Sensei Dave Sharkey 9th Dan of the English Karate Organisation.
---
This element will profile the student who has shown progress in their training, this can be for training hard, doing great kicks, practicing correctly or improvement of behaviour this student will come from the Dragon class.
This element will return in 2023
---
---
Congratulations to Dave Fothergill & Carl Howarth on achieving their 3rd Dan grades over 20 years of dedication.
After attending and studying martial arts for 8 years achieving the milestone and our latest Black Belt Ellie Parr congratulations to the three of you!
---
Congratulations to
Chloe Sarbutts
who came 2nd in the female open age kumite all the more spectacular is Chloe is only 16, she beat the reigning champion in the semifinals, in the final it was down to the next point winner unfortunately for Chloe her opponent got there first. 
Matthew Cooney came third in the boys under 4'9" category brushing off some pre comp nerves he got himself into a respected semi-finals position losing to the eventual winner, great experience for next years comp. 
A big thanks to the other team members who competed you did the club and association proud, also to parents who traveled to Birmingham for the day. 
Thanks to Astley & Tyldesley Miners Welfare Club for their sponsorship of all the teams entrance fees.  
---
These are from way back in the early days 2002 for Dave and 2004 with Carl obviously there is a little bit more of us to go round these days!!
---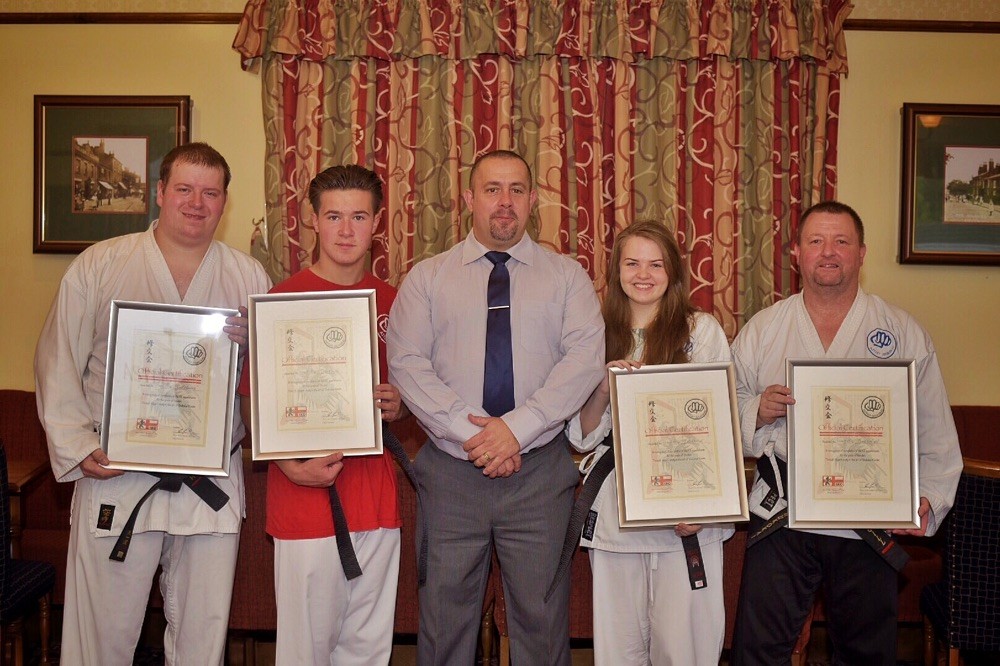 Congratulations to Dave, Carl, Alec & Ella on passing their Black belt grades.  
Dave & Carl achieved 2nd Dan while Alec & Ella both became black belts.  
Hard work and dedication has finally paid off, Alec has been training for 10 years, Ella for 5 years for Carl it's been 12 years since his 1st Dan grade and Dave 7 years. 
---
---
The E.K.O European & National karate championships took place in Birmingham on the 7th March. 
The club entered six students including the 2014 European Under 16 female kumite  Champion Chloe Sarbutts. 
Although Chloe didn't retain her title and no other student won, they can all take the experience gained and push for next year, it was a case of so near yet so far all were beaten by a close margin and the gap between winning and losing is not that big.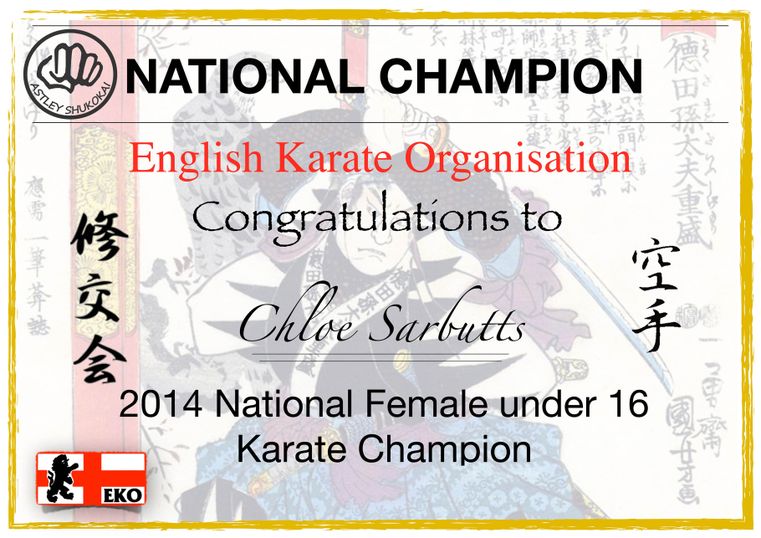 ---
Former karate student Ben Welsby has been selected to fight for the English karate team!
Ben who trained with the club up to moving away from home achieved his Black belt at fifteen, he started at a young age and fought at the National Championships in the early years gaining valuable knowledge of competition fighting.
Gaining an apprenticeship in aircraft engineering he moved to Chester, keen to carry on his karate Ben joined a local karate club entered the association karate tournaments and showing his skill, he has been selected for the English karate team fighting in Belgium this weekend.
Ben's younger brother Jack trains with the club in the senior class and has also competed in the National championships! 
The club wishes Ben and the team the very best for the weekend!
Update!
Bronze medal for Ben, fantastic news!
---
---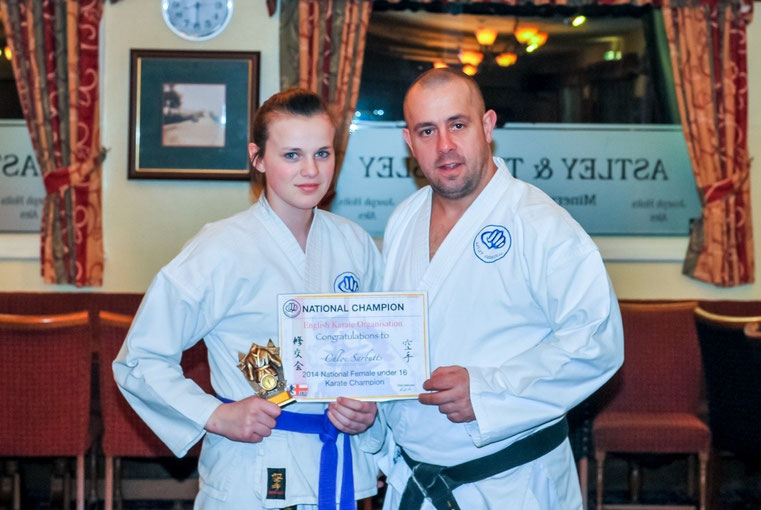 Chloe crowned kumite champion
3:12pm Tuesday 11th March 2014 in Sport
Chloe crowned kumite champion
A LEIGH schoolgirl was crowned the English Karate Organisation under 16s national champion in Birmingham at the weekend.
Chloe Sarbutts, a year nine student at Bedford High School, became the champion after beating an opponent from Stoke Ferry, Norfolk, in the final.
Her opponent had earlier finished second in the kata competition and was highly fancied for the kumite competition, but Chloe's self belief in her own ability was not in question and she dug deep to come out victorious.
Sensei Iain Crowder said: "I'm extremely proud of Chloe's achievement, her commitment to training hard has paid dividends and it's something nobody can ever take away from her.
"She will be able to tell her children and grandchildren that she was once the best under 16 in the country, you have to be proud of that.
"Even the EKO chairman Dave Sharkey 8th Dan commented on her performance and said she was fantastic.
"The club's record of producing champions is growing as is Bedford's, Chloe is now the second year nine student to win following Ewan Crowder's win two years ago."
---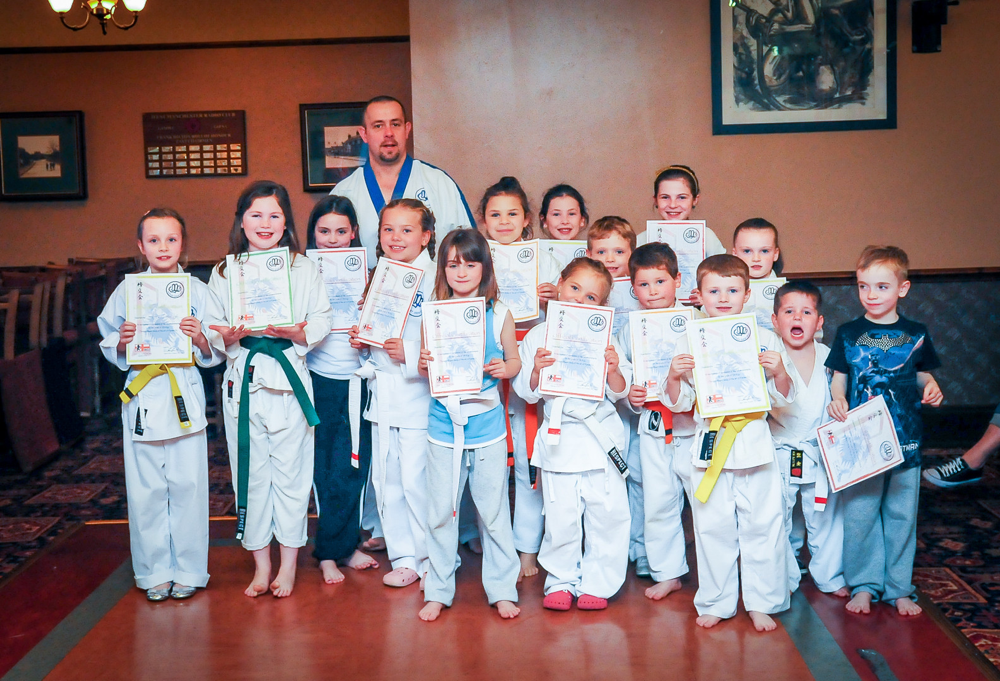 Grading success for the Little Dragon class.
Well done to all that passed their grade keep up the hard work!
---